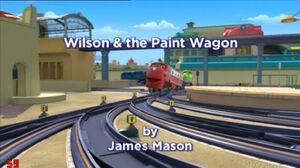 Wilson and the Paint Wagon
is the forty-first episode in the first season of Chuggington.
Plot
The three trainees are trying out some paint wagons, which are new rolling stock to Chuggington. Brewster and Koko are concentrating well with controlling the flow of the paint. But, Wilson isn't concentrating at all and he accidentally sprays yellow paint onto Dunbar's face, like a moustache. Olwin takes Brewster and Koko to do colour mixing, whilst Old Puffer Pete takes Wilson to the Old Town for more practising.
After his practising, Wilson decides to go and do some more painting. So, he repaints his roundhouse door red and paints a yellow butterfly on it. Chatsworth sees Wilson doing this and tells him sternly that he should've asked permission from Dunbar first about painting his own roundhouse door. So, Wilson covers up the yellow butterfly with red paint. Wilson still feels foolish so Chatsworth takes Wilson to a place which needs a touch-up of paint. Wilson paints a picture of himself, Koko, Brewster, and Dunbar on a wall, and then, rather cheekily, he sprays brown paint to give Dunbar a moustache!
Featured characters
Merchandising
Chuggington Die-Cast - Wilson and the paint wagon
Gallery
Community content is available under
CC-BY-SA
unless otherwise noted.