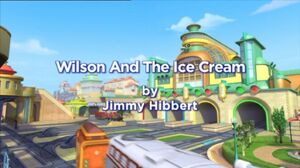 Wilson and the Ice Cream is the twenty-fourth episode of Season 1
Episode Plot
Wilson Is about to deliver his Ice Cream to the fair when he gets distracted by Frostini, who shows him around the Ice cream Factory. Wilson sees Ice Cream getting loaded into Cars and realises that he forgot his delivery. He leaves Right away and tries to pull all the cars to the fair. They are too heavy for him, but he doesn't want to look silly in front of Frostini. Finally he races to ask Frostini to help him. They get the Ice cream to the fair on time and start to sing the Ice cream song. There is the sound of shattering glass and Chatsworth laughs. "Maybe you better stick to deliveries, Wilson!"
Characters
Gallery
Community content is available under
CC-BY-SA
unless otherwise noted.