Hi all users. I'm JRCS, an Admin here. Don't be scared to ask me anything you want. I'm a nice Person! : ) If you want to talk to me regularly, I'm normally on the Thomas Wikia Chat.
JRCS



Chatsworth!

Chatsworth is My Favourite Character
The Last 4 Years with Chuggington!
I first watched Chuggington in the month it aired, I thought it was good but didn't catch on to me so I would watch it if there was nothing on but most of the time I wouldn't, would this mean I wouldn't be a Chuggington fan? A few years before There was a show called Underground Ernie, I related those two shows together rather then Thomas vs Chuggington.
Then In 2011 I got into Leokimvideo's videos and immeditely fell in love with chuggington interactive Railway, I loved the technology it reminded me of the old Goldenbear Thomas' only they could play with my Trackmaster trains, It felt like a heaven.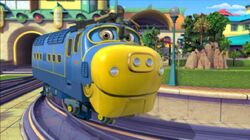 In about July I joined the wiki, It needed work, I feel my work to help here has been good. Then in August 2011, I went to my caravan and on the way something sparked in me wanting to watch Chuggington. Since the begining of the year i have wanted Chuggington Interactive Railway and I finally got Speedy and Brewster at 18th August 2011!
The Wiki had been having troubles, there were lots of unregistered users making quite good but mostly quite bad edits, The creator of the Wiki, Steamies with Glasses had made an excellent start on the Wiki, but unfortunatly became inactive so CalleyFan an I decided it was time for CalleyFan to put in a request, he did so, but unfortunatly it got declined, so CalleyFan turned to Thatssowierd (the user) to make a request, it got put on hold because other users have been good at editing like me and said to discuss it with the wiki.
Later on Roblox I got a message from CalleyFan saying TSW needs my input on the request so I said yes we had discussed it and TSW should be the Admin and a few days later ThatssoWeird was approved and made me and CalleyFan Admins, now it is the 2nd Generation of the Chuggington Wiki with new logo, new background, badges and Chat.
Although, I had the Complete First Series on DVD, I never had the time to watch it. I also wasn't at home at the times that Chuggington was on TV. I had stopped playing with my interactive trains and was only on the wikia for short times to check that no-one had made a bad edit. Although I hadn't stopped liking Chuggington, my interest went down.
However in October 2012, I got a TV for my bedroom for my birthday. It had a dvd player and freeview inside. I got it so I could watch Family Guy and American Dad without going to bed too late. Unfortunately the indoor aerial I got didn't work, so I could only use the DVD player. I would have put a Movie on, but they last too long and I would have probably stayed up until it finished. I also had no Thomas DVDs. So I put Chuggington on and I made the discovery that Chuggington helps me to sleep. I got through all 53 episodes (it had Snowstruck Wilson too) quickly and I needed more episodes. My interest soon rocketed up. During that time, the Thomas Complete Series DVDs came out. I was going to get Series 2, 3 and 5 but I decided to get Series 3, 5 and 2 chuggington DVDs (Chug-A-Sonic and Icy Escapades) They both came with a Diecast Engine (Icy Brewster and Action Chugger).
My interest in the Wikia also came back. I'm now uploaded pictures of the episodes at a high rate and when I have finished, I will be expanding the plot section on each episode. I hope more DVDs come out with episodes that I don't have on them. Especially with Diecast Chuggers.
Where else you can find me

Websites

The Official Forums of The Thomas the Tank Engine Wiki (ZEM's Forums) - JRCS
Roblox - JRCSHERS (My account is broken, so I wont be on there much.)

Wikis

Thomas Wikia
The Sims Wikia
Pixar Wikia

Interests

Thomas
Chuggington
Pixar Movies
Disney Movies
Family Guy
American Dad
Simpsons
Community content is available under
CC-BY-SA
unless otherwise noted.