Snowstruck Wilson



Writer

Deirdra Morris

Air Date

28th September 2010

Previous Episode

Next Episode
Snowstruck Wilson is the 12th episode of Season 2
Plot
At the beginning, Calley teaches trainees how to use their snowploughing skills. At the end of the lesson, the trainees flashed their snow lanterns and honked their horns so that they know what should they do when they get stuck. Wilson hoped there is real snow tomorrow.
Next day, Wilson woke and was surprised to see there were snow everywhere. Koko and Brewster got surprised as well. Vee told all the chuggers (except for the trainees) to get the snow plough and get snow off the tracks. Wilson came as well, but Harrison said Wilson's too inexperienced for this work. Wilson pleaded Harrison and said I learn such a lot from watching you. Harrison agreed but warned him not to get lost.
Later in the episode, Wilson forgot that he must stick very close to Harrison, so he got lost. Vee warned all the chuggers they must return to the depot due to the blizzard on the way. Harrison tried to warn Wilson, but he cannot find him. Wilson went into the tunnel and used it as a shelter. Unfortunately Wilson honked his snowhorn very loudly and some of the snow fell off the top, leaving him trapped and shiver. Then an owl came in. The owl flashed Wilson's lantern and Harrison tried to help him get out of the tunnel. Harrison failed to do so and starts to give up to get help, but Action Chugger came to rescue Wilson by melting the snow. Wilson was okay, only freezing. So Action Chugger coupled Wilson and soared in the air to return him to the depot.
Characters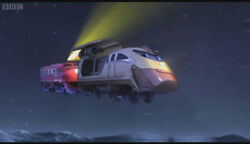 Gallery
Community content is available under
CC-BY-SA
unless otherwise noted.