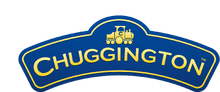 A sixth season of Chuggington is currently in production for delivery and release in Spring 2020. It will be the first season to be produced by Herschend Entertainment Studios, following their purchase of Ludorum. Michael G. Stern (Doc McStuffins, Sofia the First, Jake and the Neverland Pirates) will serve as both head writer and co-executive producer, while Julie Phillips (VP of H.E.S.) will serve as executive produce.
The new season will have "a fresh approach with new formats, elements, and storytelling styles."[1] New characters, expanded locations, and a musical soundtrack will be added, with some episodes being standalone, while others will be written to make up larger story arcs.[2]
Alongside the new season, a series of 26 1.5-minute live action/animated hybrid shorts where "live action kids globally will journey into the animated world of Chuggington" will be produced to "to allow for increased audience interaction with the world and characters of Chuggington."
The series is "being developed in partnership with Alpha Group and leadership from the broader HE family of businesses to ensure an organic 360 franchise for the relaunch."[3]
It is set to premiere on Disney Junior in the US[4] and Cbeebies in the UK[5].
Synopsis
"Season six of Chuggington will continue to delight preschoolers on A-list broadcast networks and top streaming platforms worldwide. In the new season, everyone's favorite trio of trainees, Wilson, Brewster, and Koko, will embark upon exciting adventures that encourage teamwork, friendship, and fun, highlighted by a toe-tapping new soundtrack. Award-winning writer/producer Michael G. Stern (Doc McStuffins, Sofia the First) leads production, serving as head writer and co-executive producer.
The new season (52 x 10') is all about discovery, getting to know the unique characters and the inner workings of the locations that make Chuggington so special. It's a fresh celebration of the diversity, friendships, and adventures that have delighted audiences for the past ten years. To top it off, live action kids globally will journey into the animated world of Chuggington through an all-new hybrid live action / animated short format (26 x 1.5')."[6]
Episodes
Wilson's Broadcast Blues
The Fast, the Strong, and the Wilson
Chug Patrol, Out of Control [7]
Characters Introduced
Shorts
"A Day in the Life of a Chugger"
Marketing
In addition to Alpha Group's new toyline, a massive marketing effort is being put in for Season 6. As stated in a press release, "the brand reintroduction will also be supported with refreshed and all new creative assets, a special minihub website (launched February 2020, with the kids' site set for a March 30th launch), broadcaster support, direct-to-consumer campaigns, promotional events, and global brand partnerships."
At Brand Licensing Europe 2019, Herschend met potential new partners across key catagories including publishing, secondary toys, puzzles and games, food and drink, sleepwear, apperal, and bedding.
The relaunched toyline was revealed at London Toy Fair 2020, before a larger and more elaborate display was shown at New York Toy Fair 2020.
Trivia
Production on the season began in May 2019; Herschend will oversee the series' writing staff and completion, while Ludorum Enterprises Ltd. (with a new subsidiary Chuggington Productions Ltd.) will oversee production itself, with many key personnel from the original five seasons returning.
This will mark the first season to produced without the involvement of Sarah Ball.
This will also mark the first season not to include many of the original US dub voices.
Season 6 will mark the return of Chuggington after five years of hiatus.
Marketing materials shown at New York Toy Fair 2020, as well as the launch lineup for the Alpha Group toylines, indicate the Depot, the Ice Cream Factory, the Safari Park, and the Docks will be among the season's main locations. A line of die-cast vehicles (giving the trainees temporary new designs) has been confirmed to tie into one of the episodes.
Gallery
Behind the Scenes
Promotional Images
Marketing
Redesigned Website
References
Community content is available under
CC-BY-SA
unless otherwise noted.