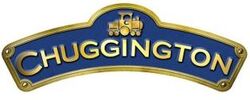 Season 2
of Chuggington first aired in the U.K. in September 2010, then in Canada in October 2010 then in the U.S. in February 2011.
Episodes
Screenshot
Title
Original Airdate
Season Episode
Total Episode
Koko's New Look
13th September 2010
1
53

Zephie gets a new look and Koko wants one, too.

Frostini's Meltdown
14th September 2010
2
54

Frostini's ice cream is melting, so Speedy takes it to the Ice Cave.

Babysitter Brewster
15th September 2010
3
55

Brewster teaches Hoot and Toot about turntables.

Lights, Camera, Action Chugger
16th September 2010
4
56

A new Action Chugger movie is being filmed.

Chug of War
17th September 2010
5
57

Speedy tells Vee about a chug of war and Vee likes the idea so she says that they should have one.

Hodge Sails Away
20th September 2010
6
58

Hodge gets lifted off the tracks and sails around Chuggington.

Stop the Press, Emery
21st September 2010
7
59

Emery becomes a News Reporter.

Hoot vs Toot
22nd September 2010
8
60

Hoot and Toot want to make a delivery, but Hoot mixes up the loads and Toot gets upset with him.

The Brewster Booster
23rd September 2010
9
61

A new invention is made to make the Chuggers go faster.

Quizmaster Hodge
24th September 2010
10
62

A quiz show is coming tonight and Hodge volunteers to be quiz master of the new quiz show.

Wilson and the Dinosaur
27th September 2010
11
63

Wilson takes pictures of a dinosaur.

Snowstruck Wilson
28th September 2010
12
64

 An avalanche traps Wilson.

Heave Ho Harrison
29th September 2010
13
65

Harrison gets stuck in a snow drift.

Scrub-A-Chug Chug
29th November 2010
14
66

Wilson tries to clean the tunnels.

Next Stop - Space
30th November 2010
15
67

Hoot and Toot find a meteorite.

Chilly Chuggers
1st December 2010
16
68

Eddie and Emery get trapped in the Ice Cave.

Stunt Brewster
2nd December 2010
17
69

Brewster saves Koko from a nasty accident.

Wilson's Icy Escapade
3rd December 2010
18
70

Koko gets stuck in the Ice Tunnel.

Rolling Reporter Wilson
6th December 2010
19
71

Hoot and Toot help Wilson with his news report.

Zephie and the Bees
7th December 2010
20
72

Zephie needs Speedy's help

Brewster Meets the Mayor
8th December 2010
21
73

Brewster goes to see Mayor Pullman, but the bridge taking Brewster to see the Mayor is unsafe.

Chugger of the Year
9th December 2010
22
74

Koko tries to win an award.

Fault Finder Emery
10th December 2010
23
75

Koko tries to win an award.

Hodge and the Chugnav
13th December 2010
24
77

Hodge tries to fix a tracklift.

A Pat On The Paintwork
14th December 2010
25
78
Koko decides to try for the High Speed badge - something no trainee has ever won. Emery wishes he still earned badges like the trainees do. For fun, he plays a 'pretend badge' game with Hoot and Toot, where they award each other imaginary badges.
Toot's Tall Tale
15th December 2010
26
79
Toot doesn't want to do track inspection with Hoot. To get out of it, she pretends she isn't feeling well. At first she enjoys getting lots of attention, but when Morgan thinks her flywheel needs replacing, which means having her engine taken out and spending the night in the repair shed, Toot realises she's gone too far.
Characters
Chuggers
Humans
Cast
UK
Morgan Overton as Wilson
Imogen Bailey as Koko
Charlie George as Brewster
Warren Clarke as Speedy McAllister
Tommy Romer Lee as Hoot
Mihira Phillips as Toot
Jadie-Rose Hobson as Zephie
Paul Panting as Irving and Old Puffer Pete
Nicole Davies as Calley
Andy Nyman as Dunbar and Chatsworth
Jordan Clarke as Emery
Colin McFarlane as Harrison
David Gyasi as Mtambo
Jill Shilling as Olwin
Angelo Cola as Frostini
Pax Baldwin as Action Chugger
References
Cbeebies TV Schedule - http://www.bbc.co.uk/cbeebies/grownups/about/whatson/tv/
Community content is available under
CC-BY-SA
unless otherwise noted.