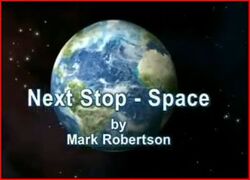 Next Stop - Space is the fiftheenth episode of the Second Season.
Plot
Dr. Ling shows the trainees and Zephie on a movie at nighttime of how meteorites came down onto the city in the early years of the town.
Brewster carries in a big meteorite on a strong freight car which Dr. Ling, the scientist believes that one of these big balls, must have hit near Chuggington (in real life, it was the dinosaurs at the time).
As the trainees, including Zephie & Dr. Ling had to go back to get some rest for the night, Hoot and Toot decided to take the meteorite on a night tour.
When Hoot and Toot travelled to the quarry where the engines get stone from, a first attempted run-away was stopped in its tracks for once up any of the hills.
But during the stop outside the quarry, the meteorite jumped off its freight car and makes a run-away, back to Chuggington, which Hoot and Toot believes that meteorite is heading for the roundhouse.
After the meteorite wakes up Wilson, Brewster and Koko by bashing their roundhouse doors, they joined Hoot and Toot into the chase. Can this meteorite be stopped or will Chuggington be in chaos forever?
Characters
Community content is available under
CC-BY-SA
unless otherwise noted.