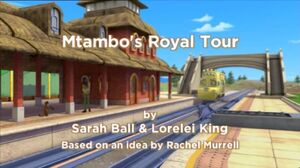 Mtambo's Royal Tour
is the thirty-third episode of
Season 1
.
Plot
At the Safari Park, Vee tells M'tambo and Vicky that the King of Buffertonia is coming for a royal visit in the afternoon, so M'tambo quickly makes preparations for the tour using Hodge as the Royal Carriage.
Meanwhile, the trainees are with Dunbar learning how to tackle a sharp U-turn in the track when Old Puffer Peter comes by, on his way to collect the King of Buffertonia. Excited, the trainees want to see the King, but Dunbar reminds them that they have training to do. However, throughout the training, Koko goes too fast, Brewster goes too slow and Wilson, as usual, isn't concentrating.
Old Puffer Pete collects the King of Buffertonia and the Royal Carriage and is puffing through the Rocky Valley when he hears a rumbling noise. At first, Old Puffer Pete thinks it's bubbling inside his tank, only to realise that the rumbling is a landslide. Quickly, Old Puffer Pete stops and luckily no-one is hurt, but the track is blocked.
Back at the Safari Park, M'tambo's prepared royal tour is going well when Vee reports the landslide to him as the King of Buffertonia won't be able to make it. M'tambo is disappointed, but Hodge cheers him up as he thinks it was perfect for the King.
However, help arrives in the form of Action Chugger who clears away the landslide quite quickly. At first, Old Puffer Pete insists of taking the King home when Action Chugger decides to take him to the Safari Park. When Vicky informs M'tambo that the King is coming, he is worried as it is nearly dark, the tour will be a disaster.
Soon, Action Chugger gets the King of Buffertonia to the Safari Park, and quickly takes off, unaware that the trainees were following him having completed their training. But, the trainees are just happy to see the King for themselves.
M'tambo soon takes the King on his tour of the Safari Park, but it is very dark and difficult to see. Luckily, M'tambo remembers Vicky having the night-vision binoculars and tells her to give them to the King. The plan works, and with the King able to see the animals with the binoculars, the tour is a great success. Also, the King of Buffertonia gives M'tambo a royal warrant.
Featured characters
Merchandising
Gallery
Community content is available under
CC-BY-SA
unless otherwise noted.