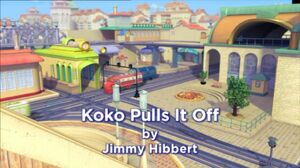 Koko pulls it off is the 23rd episode in Season 1.
Plot
Koko fails her test when she bumps the passenger car after Mr. Simpkins falls down. Mr. Simpkins told her not to take the retake until next year Koko gallivants off from her test crying when she met Irving, askinh her if she wants to be recycled, but Koko doesn't want to and she told Irving the whole story. Irving then scolded Simpkins for taking things too far by being rude. This prompted Simpkins to apologize for his behavior. Simpkins then asks Koko if they start the test again and then Koko retakes her test. And most of all, Koko did pass. After the tests, Simpkins promises to behave nicely to chuggers from now on.
Characters
Names in other languages
French: Une Seconde Chance Pour Koko
Spanish(Latin America): Koko lo logra
Trivia
Jimmy Hibbert, the writer of this episode, also provides the voice of Mr. Simpkins.
Gallery
Community content is available under
CC-BY-SA
unless otherwise noted.