Badge Quests
are a series of four to five minute training tasks given by 
Vee
 that the
trainees
take. They were produced between the
first
and
second seasons
to tide over fans until new full-length episodes were released. Trainees earn badges for completing these tasks sucessfully. If a task is not completed sucessfully, a trainee can complete it another time. Once a trainee earns a certain number of badges, a trainee will become a chugger. Each badge quest appears after every first episode.
Episodes
Title
Original Airdate
Total Episode

Part 1

Part 1 started on 24th July 2010 and new episodes aired every Saturday and Sunday Until 18th October 2010
Weighing It Up
24th July 2010
1

The trainees earn their Weighing It Up badges by guessing whether or not Dunbar has loaded more weight onto their car

Brewster's Carwash
25th July 2010
2

Brewster and Koko earn their Carwash badges by learning how to wash the dirty train cars. They quickly realise that team work will help them on their quest.

Rainbow Chuggers
31st July 2010
3

The Chuggers are on the quest for their Colour badges. They need to solve a number of clues to find six coloured cars in hidden locations. Koko hides it but manages to find it. Then together they have to arrange them to form a rainbow!

Chug Patrol
1st August 2010
4

The Chuggers are on a mission to try and beat the record for the number of problems reported on the rails, while they go on chug patrol for their Chug Patrol badge.

Remember the Route
7th August 2010
5
The Chuggers earn their Remember the Route badges by memorising a list of three destinations and visiting them in the correct order. Brewster finds that using rhymes helps him memorise his destination list.
Squeaky Clean
8th August 2010
6
Brewster learns about the importance of good presentation as he earns his Squeaky Clean badge by staying clean while pulling a very special load of stinky manure.
Honk Your Horns
14th August 2010
7
In order to earn his Horn Honking badge, Wilson has to prove that he knows when to use his horn, and when not to use it.
Ready To Roll
15th August 2010
8
Before setting off on a long-distance night run, the Chuggers must make sure they complete their safety checks. If they remember everything and reach their destination, they will earn their Ready to Roll badge but Koko wants to get there first and forgets her checks.
Capable Brewster
21st August 2010
9
Brewster tries for his Capability badge by transporting loaded cars to the quarry. But the task isn't as easy as he initially thinks, and soon he finds himself seeking out the help of his friends.
Fire Safety
22nd August 2010
10
To earn their Fire Safety badges, the Chuggers need to follow the fire safety rules when they hear the alarm.
Knowing Where You Are Going
28th August 2010
11
Wilson needs to remember where he is going and not be distracted in order to earn his Knowing Where You Are Going badge.
Helping Wheels
29th August 2010
12
Brewster and Wilson earn their Helping Wheels badges by helping others on and around the tracks.
Running On Time
4th September 2010
13
Brewster and Koko try and earn their Running On Time badges by sticking to schedule while transporting their passenger carriages.
Animal Helper
5th September 2010
14
To be able to earn his Animal Helper badge, Brewster is asked to look after Ebo the elephant while some work is being done to Ebo's enclosure at the safari park. At first it's all fun and games, but when Ebo refuses to go back to the safari park Brewster has to come up with a creative solution to get him back.
Work Those Wheels
11th September 2010
15
In order to earn their Work Those Wheels badges Koko, Brewster and Wilson need to put together a work out. When Wilson realises that he isn't strong like Brewster or fast like Koko, he has to invent a new and fun workout for himself.
Buddy Badge
12th September 2010
16
Koko and Brewster try for the Buddy Badge. To earn the badge they must learn to trust each other, as they have to direct one another while the other has their eyes closed. Koko has a hard time trusting Brewster, but when she realizes that they are indeed best buddies, she starts to trust him.
Brewster and the Star Map
18th September 2010
17
To earn their Star Map badges, Koko, Wilson and Brewster must find pictures in the stars and use them to guide them where they are going. Brewster finds it very difficult to see the pictures, but when he starts to use his imagination, it becomes very easy and clear.
Emergency Emery
19th September 2010
18
Brewster and Wilson try and earn their Emergency badge by staying calm while running through an emergency drill where Emery pretends to be stuck in a tunnel. The chuggers find it difficult to stay calm, but when a real emergency happens they have no choice but to stop themselves from panicking and work together to help Emery.
Koko's Cargo
25th September 2010
19
In order to earn her Cargo badge, Koko must be able to transport certain cargo from point A to point B. She soon realizes that some cargo is more fragile than others, and that so requires more careful transport.
Concentrate Wilson
26th September 2010
20
Wilson has a hard time concentrating when playing the game two of a kind with the other chuggers, in an effort to earn his Concentration badge. The task becomes easier when he is taught some tricks that will help him memorize things.
Follow the Leader
2nd October 2010
21
Koko leads Brewster and Wilson in delivery of the morning paper. She soon learns that the best way to delegate is to recognize each chugger's individual strengths. Koko may well be the leader of the team, but what's more important is that they are a team!
Make or Brake
3rd October 2010
22
To earn the Good Judgment badge, the chuggers need to complete a brake test. Wilson fails the test, but should he use his good judgement and confess to it, or hide his mistake?
No Time to Waste
10th October 2010
23
The chuggers learn about being efficient, when they work towards earning their Clean Up badges. They must clean up litter, and then make sure that the litter gets recycled. The chuggers attempt different methods, some of which are fast and others which are more efficient.
Quiet Please
11th October 2010
24
In order to earn their Quiet badges, the chuggers need to keep their bumpers zipped all day. When Wilson finally manages to stop talking, he realizes that there is so much more to see when he stays quiet - especially in the safari park.
Keep Chuggington Beautiful
17th October 2010
25
The chuggers have to think of a way they can help make Chuggington even more beautiful. Koko decides to wash down the platforms, while Brewster paints a few fences and picks up litter. But when a cheeky monkey starts throwing the litter back onto the tracks, Brewster realises he has a big problem!
Who Do You Appreciate?
18th October 2010
26
When the chuggers are given a shiny new badge, they are also given the task of forwarding that badge on to someone they really appreciate. But who do you choose when there are so many great chuggers around?

Part 2

Part 2 started in 24th January 2011 and new episodes aired every Monday-Friday until 9th February 2011. Only 13 episodes were made compared to the 26 episodes in 2010.
Town Criers
24th January 2011
27 (1)
Brewster and Wilson try for their Town Crier badges - a badge recognising their public speaking skills. They need to learn to be loud, clear and say their message with style!
Couriers
25th January 2011
28 (2)
Koko and Brewster must each deliver three packages before 3 o'clock.
Fire Warden Wilson
26th January 2011
29 (3)
Wilson struggles to concentrate when working towards his Fire Warden badge.
Home, Wilson
27th January 2011
30 (4)
Wilson is sent to a mystery location and needs to find his way home with the help of the Chug-nav.
Pull Together
28th January 2011
31 (5)
Wilson and Koko have to rescue a stranded chugger in an attempt to earn their Snow Rescue badges.
Shape Up
31st January 2011
32 (6)
Koko and Wilson struggle to get their Loading badge, as they decide how to transport a selection of blocks.
Show and Tell Brewster
1st February 2011
33 (7)
Brewster has to invent a fun tour that teaches some visitors a little bit about Chuggington.
Green Machines
2nd February 2011
34 (8)
Hoot and Toot double-check the recycling in order to get their Green Machine badges.
Chug and Click Wilson
3rd February 2011
35 (9)
Wilson has to use the camera wagon in three different ways to earn his Chug and Click badge.
Service with a Smile
4th February 2011
36 (10)
Wilson has to learn about good customer servie to earn his Service with a Smile Badge.
First Things First
7th February 2011
37 (11)
Hoot and Toot learn about setting priorities for their First Things First Badge.
Night Chuggers
8th February 2011
38 (12)
Hoot and Toot must deliver their cargo before sunrise to earn their Night Chugger's badge.
Trainer Wilson
9th February 2011
39 (13)
Wilson has to teach Hoot and Toot to use the paint wagon.

Part 3

Part 3 aired from Monday 6th February 2012 to Tuesday 14th February 2012, missing the weekend. Only 7 episodes were made this time compared to 26 in the first part and 13 in the second.
Home Sweet Home
6th February 2012
40 (1)
Brewster learns about camouflage when he repaints the lizard's house.
Safeguarder Wilson
7th February 2012
41 (2)
Wilson learns to keep the tracks safe as he tries for his safeguarder badge.
Swift Shift
8th February 2012
42 (3)
Hoot and Toot have to round up all the stray wagons around the depot in record time.
Look Out Brewster
9th February 2012
43 (4)
Brewster goes on the lookout fro potential safety hazards on the track.
Wilson's Winter Feed
10th February 2012
44 (5)
Wilson and Koko have to feed the animals in the snow, but Wilson can't find the sheep
Share The Load
13th February 2012
45 (6)
Brewster learns to share the workload with his team mates.
Mind your Manners
14th February 2012
46 (17)
Toot discovers that having good manners is about what you do, not what you say.
13 more badge quest episodes have been confirmed for fall 2013
Trivia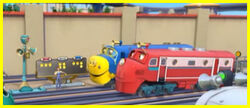 Despite the fact that each part has almost 1 year between them, the BBC programme infomation refers them all as 1 season. So they are referred to as parts.
According to the BBC programe infomation, 6 more episodes are to come.
Generally Lori gives each trainee their badge when the task is completed, although Hoot and Toot "found" theirs for their recycling badge in a recycling car.
There seems to be little continuty, as at the end when you see the trainee's bagdes, there are only three or four everytime.
Piper is not featured in the Badge Quest yet.
Hoot and Toot once gave out 'fake badges' to Emery.
Some badges use three Trainees, but some use two or one.
Gallery
Community content is available under
CC-BY-SA
unless otherwise noted.