Brewster To The Rescue is the 40th episode of Season 1.
Plot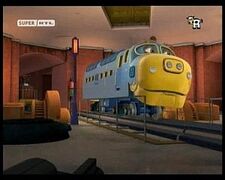 Calley is teaching the trainees how to be Rescue Chuggers, so they will earn their Rescue Badges. Calley shows them her underground store where all the rescue trucks are kept. Brewster tries to collect the fuel truck, but he ends up collecting the magnet crane instead and starts to lose his confidence. Later, out in the countryside, Koko is using the fuel truck to "refuel". Wilson and Brewster uses the rescue crane to rescue Zephie. However, Brewster continues to lose his confidence, and really loses it when he accidentally makes Zephie go upside down. Upset, Brewster decides to go home and take his Rescue Badge another day.
Meanwhile, Chatsworth is heading back from the Quarry and going down the steep hill. But when he applies his brakes, one of the brakes on the hopper trucks locks up and catches fire! Brewster had just returned to Chuggington when the rescue alarm goes off. At first, Brewster decides to tell Vee, but then, feeling his confidence growing again, he goes underground to collect the fire truck to rescue Chatsworth. Once he reaches Chatsworth, Brewster puts out the fire and couples up to the hopper wagon with the locked-up brakes. That evening, all three trainees have earned their Rescue Badges, and Brewster is rewarded with a Bravery Badge for rescuing Chatsworth.
Featured characters
Goofs
When Chatsworth leaves the rolling stock yard, he has two cars (green), at the quarry he has four (green, red, blue) then when he sets on fire, he has a green, blue and two red cars.
Gallery
Community content is available under
CC-BY-SA
unless otherwise noted.