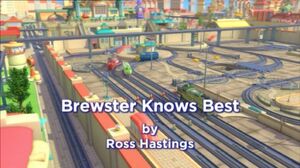 Brewster Knows Best
is the twenty-third episode of
Season 1
.
Summary
The trainees are doing a sign-reading exercise, and they're promised a wonderful surprise at the end. Brewster believes that slow and steady are the easier ways to see the surprise, but Koko and Wilson are too impatient and greedy and thinks Brewster is wasting their time. Frustrated with Brewster's waiting, they abandon him and rush off. But Brewster's patience pays off and he finds the surprise is a ride-in movie theatre. Meanwhile, Wilson and Koko hit a dead end and believe that a surprise would show up. But after almost an hour and nothing came up, they start to think that something isn't right. They began to realise how selfish they've been. Then Brewster arrived to them. Koko and Wilson were glad and they apologised to Brewster for not listening to him.
Characters
Gallery
Community content is available under
CC-BY-SA
unless otherwise noted.