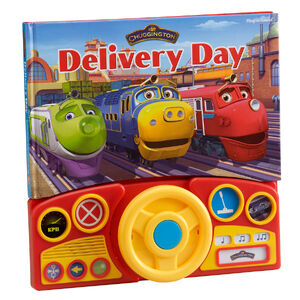 Various ranges of books are being made for Chuggington.
Scholastic Picture Books
The Chugger Championship (Book)
Koko on Call (Book)
Brewster's Little Helper (Book)
Dinosaur Adventure! (Book)
Scholastic First Reading Books
Braking Brewster
Lights, Camera, Action Chugger
Wilson and the Ice Cream
Chugger Board Books
Brewster
Koko
Wilson
Action Chugger
Story Gallery
Clunky Wilson
Can't Catch Koko
Braking Brewster
Wake Up Wilson
Koko and the Squirrels
Brewster Goes Bananas
Old Puffer Pete's Big Show
Jetpack Wilson
Mini Books
Braking Brewster
Clunky Wilson
Zephie's Zoomaround
Wilson Gets a Wash
Hodge and the Magnet
Mini Books (With Chugger)
Pete's Firebox - Olwin
Training Time, Harrison - Harrison
Mtambo's Amazing Adventure - Mtambo
Frostini's Fruit Fandango - Frostini
Annuals
Chuggington Annual 2010
Chuggington Annual 2011
Chuggington Summer Annual 2011
Chuggington 3D Summer Annual 2011
Chuggington Annual 2012
Sticker Books
Bumper Sticker Book
Sticker Scene Book
Board Books
Welcome to Chuggington
Delivery Day
Snowstruck Wilson
All Around Chuggington
Other Books
Poster Book
Read and Play
Koko on Call Nightlight Book
Shape search bath book
Interactive Pull Tab Pop Up
Colour and Copy Poster Book
Card Activity Book
Chuggington Boxset
Storybook Collections
Little Library
Sing and Learn Activity Book
Read Along
Wilson Gets a Wash 3D
Chuggington 3D Read and Play
Take Along Activity Bag
Moving Picture Book
Construct and Play
Train Travel Pack
Sticker Story
Shiny Stickers
Stickers Boxset
3D Floorpad
Let's Discover Colours
Let's Discover Numbers
Let's Discover Shapes
Gallery
Community content is available under
CC-BY-SA
unless otherwise noted.