These are the animals who live in Chuggington.
Peckum
Peckum is Morgan's dog. He lives at the Repair Shed. In Wilson Gets a Wash, it is found out that he hates being clean.
Ebo
Ebo
is a female elephant who lives at The Safari Park. In
Wilson and the Elephant
, he caused trouble for
Wilson
. She is quite popular among the people of Chuggington.
Banana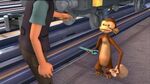 Banana is a mischevious monkey who lives at the Safari Park. He causes chaos everywhere he goes.
Zip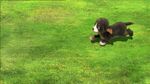 Zip
is a puppy that belongs to
Jenny
. He is one of the main characters in episode
Koko's Puppy Training
, in which
Koko
finds Zip in a park and calls him "Zoomi", then wanting to keep him.
The Gigantic Crested Lizard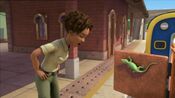 The Gigantic Crested Lizard
was a lizard that
Brewster once
delivered to the docks.
M'tambo
wanted to pull the lizard to have an adventure. The lizard is not acually 'gigantic' - it was named after the scientist who discovered it
Twiga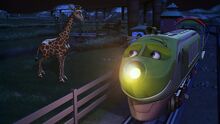 Twiga is a giraffe at the Safari Park.
Squirrels
The squirrels appear in Koko and the squirrels and Koko's puppy training making a cameo.
Community content is available under
CC-BY-SA
unless otherwise noted.