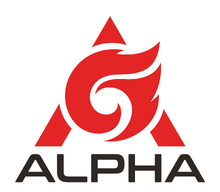 Alpha Group Co., Ltd. (simplified Chinese: 奥飞娱乐股份有限公司; traditional Chinese: 奧飛娛樂股份有限公司; pinyin: Aòfēi Yúlè Gǔfèng Yǒuxiàngōngsī) is the current toy master licensee for Chuggington as of June 3rd, 2019. A "broad range of toys across vehicles, track sets, radio-control toys, plush, games, electronics, smart toys, novelty, and seasonal products are all in development" for release in Autumn/Winter 2021 (though some exclusive items got an early release within July 2020 in China, and one set was eventually released as a December 2020 holiday exclusive on Amazon US).[1] The main toyline "will bring new innovation to well-loved train play patterns, giving fans the opportunity to re-enact the series' adventures like never before with universal track sets, scenic location-based play sets and trains from the Chuggington world."[2]
First revealed at the London Toy Fair 2020, the new line will be divided into three scales; large-scale "Feature" chuggers including "Pop & Transform" Chuggers (with a surprise transformation) and rereleased and slightly redesigned Remote Control Chuggers, mid-scale "Traintastic" die-cast vehicles and playsets with "Look Alive" Chuggers (with moving facial expressions) and "Touch & Go" Chuggers (with innovative technology to start and stop), and small-scale Mini Chuggers with "Fold 'N Go" playsets.[3] The Traintastic and Feature scales will release in Q4 2021, with the Mini Scale launching Spring 2022.[4]
Alpha has also been working with the Herschend Entertainment Studios team in partnership for Season 6. An example of the synergy being represented is a subcategory of the Die-Cast vehicles with boxes that give them new (temporary) designs, tied in with a to-be-announced episode.
Traintastic Scale (Mid-Scale)
Chuggers
Motorized Two-Packs
Two-Packs
Three-Packs
Four-Packs
"Look Alive" Chuggers
"Touch and Go" Chuggers
Track Sets
2020
2021
Mini Scale (Small-Scale)
Chuggers
3-Packs
Stow 'N' Go Playsets
Feature Scale (Large-Scale)
Pop and Transform
Trivia
Gallery
Mini Scale
Chuggers
Playsets
Traintastic Scale
Look Alive Chuggers
Touch and Go Chuggers
Motorized Chuggers
Two-Packs
Track Sets
Feature Chuggers
Pop and Transform
Remote Control
Packaging
Marketing
References
Community content is available under
CC-BY-SA
unless otherwise noted.