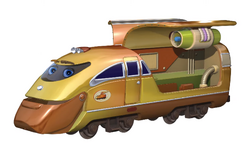 Action Chugger
Class:FS E414
Voice: Pax Baldwin (UK), John Pohlhammer (US)
Appearance: Chuggington
Action Chugger is a jet-powered chugger who lives in Chuggington.
Bio
Action Chugger is Chuggington's real life superhero always ready to help anyone who is in trouble. He is like a cross between Superman and the Thunderbirds! All of the other chuggers think he is great - he is like a celebrity in Chuggington. Action Chugger has even had films made all about his rescues.
Basis
He is based on a FS E414. ITALIAN LOCOMOTIVE but he also looks similar to the German ICE high speed train.
Trivia
Action Chugger is kind and has a lot of patience.
He stars in Action Chugger Movies.
A C's front coupler is not like other chuggers - his comes out from under himself. No-one really knows where his comes from.
His catchphrase is "Chuggtastic!"
In German he is called "Super-Lok", but in English this would mean "Super-Locomotive". Similarly, in Hebrew his name is גיבור הקטרים, which in English means "Hero of the Engines".
He is often admired by Brewster.
He first performed his trademark barrel roll in his movie, "The Rolling Adventures Of Action Chugger".
Gallery
Community content is available under
CC-BY-SA
unless otherwise noted.